Chlorine Gas Cylinder
Welded Chlorine Gas Cylinder
The gas cylinders are widely used in industrial, fire-fighting, energy, medical, city construction and other sectors. Our products are manufactured according to the GB5100, ISO9809, GB11638, also including DOT, TC, EN and other international standards which can guarantee the good quality, fast delivery time, competitive price, favorable payment terms etc. If you focus on welded gas cylinder, especially for liquid chlorine cylinder, ammonia cylinder or fire fighting cylinder, we will be your excellent professional supplier.
Technical Characteristics

Chlorine

Joint Efficiency

0.9

Nominal Capacity L

800

Filling Factor kg/L

0.53

Working Pressure MPa

3

Max. Filling Weight kg

400

Hydrostatic Test Pressure MPa

4.5

Design Wall Thickness mm

10

-40~60

Design Service life year

12
SPECIFICATIONS
1. The cylinder should be design manufactured, inspected and accepted according to GB5100.Weld Steel Gas Cylinders and Supervision&Inspection Rules for Cylinders'safety.
2. The longitudinal and circumferential seams must be welded by electric-arc welding, and the welds must be made by a machine process. The tensile strengh of joints must be not less than the tensile strength of minmum by parent material standard.
3. The longitudinal and circumferential welds must be examined by ≥20% X-ray radiography and evaluated according to JB4730 Nondestructive Testing of Pressure Vessels. Grade is qualified.
4. The cylinder must be subjected to heat treatment to relieve stress entirely after all welding work has been competed.
5. The cylinder must withstand a hydrostatic test to 45kgf/cm according to GB/T9251 Methord for Hydraulic Test of Gas Cylinders after heat treatment. Dry the internal surface after testing.
6. The cylinder must withstand a pneumatic test to 30kgf/cm according to GB12137 Methord for Pneumatic Testing of Gas Cylinders.
7. Internal surface should be subjected to rust cleaning before assembly and external surface should be subjected to shot blasting after assembly. The cylinder should be coated with anticrrosion primer(>20um) and yellow finish paint(>40um).
8. Thread seal should be winded with PTEE.
9. 16MnR can be used as material of ends and shell. See mechanical properties and chemical composition in table of Body Material.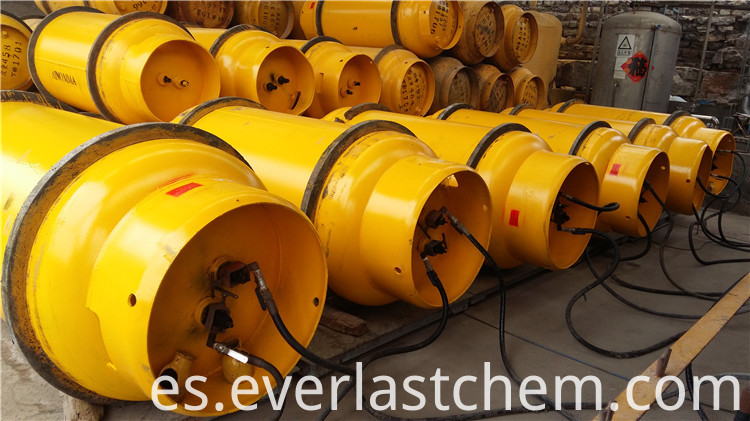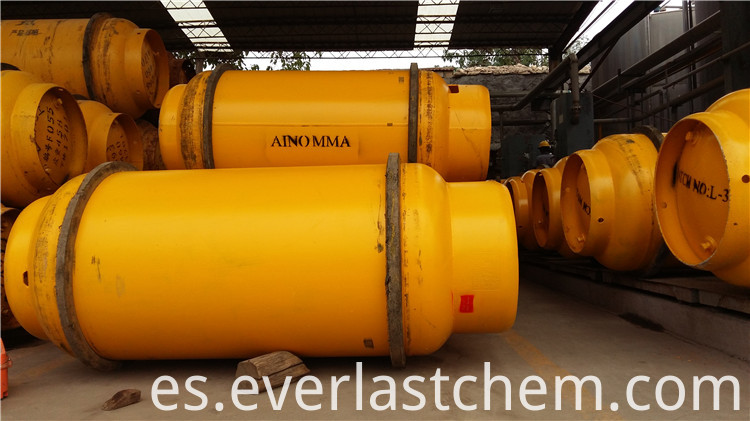 Machine Parts
Name: Chlorine Cylinder
Brand: Everlast
Original: China
Demision: 800mm
Length: 2000mm
Filling Capacity: 400 KG
Ammonia Valve Type: QF-11
Thread: G 1/2
Standard: GB5100
20 Footer Container

7650kg

17 * 800 L cylinders in 1*20 Footer container
40 Footer Container

1530kg

34 * 800 L cylinders in 1*40 Footer container
Grupos de Producto : Cilindro de gas